In 1988, under the subsidiary of Lebtech Construction Sdn Bhd is where our story began. From the business of Civil and Building Construction works we diversified to property development. Under KUMPULAN LEBAR DAUN ("KLD") several companies formed a corporate alliance solely focusing on housing development as our main agenda. To this date, our group is a "Pusat Khidmat Kontraktor" (PKK) Class (Bumiputra) contractor that obtained the highest G7 classification recognized by the Construction Industry Development Board (CIDB). KLD has risen from a small-time contractor developer to a major player in the property and construction industry. Through the expansion of KLD over 30 years of experiences, offering the very best for our clients and business associates. We always strive in being a credible and respectable organization.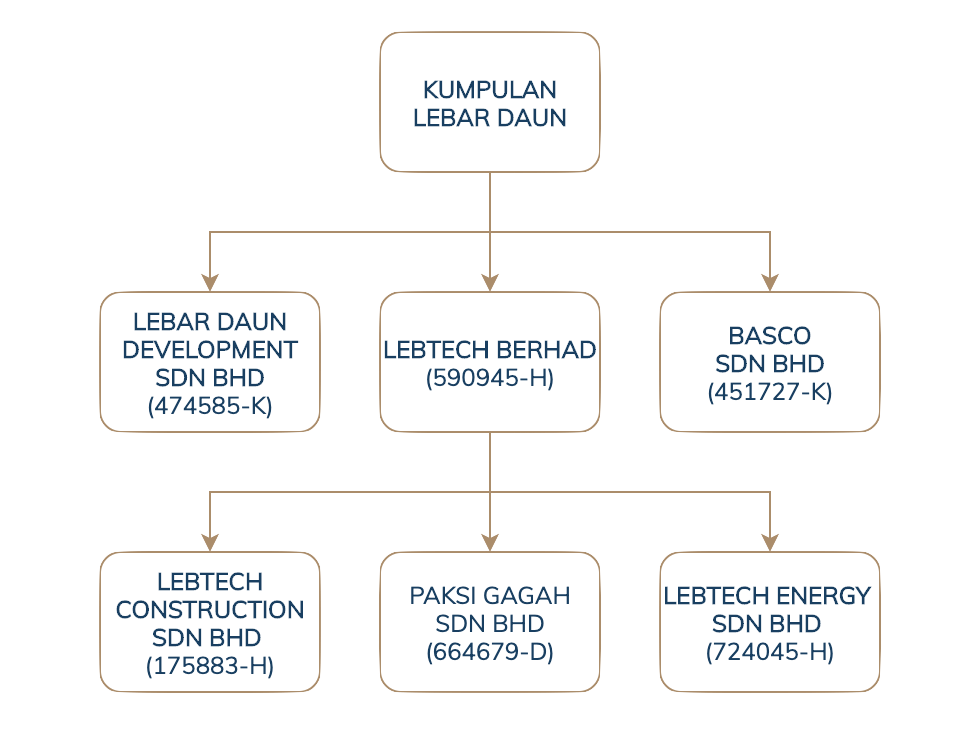 LEBTECH BERHAD (590945-H)
An investment holding company primarily engaged in civil and building construction. Revenue mainly is derived from construction of private residential in Selangor and commercial development projects in Perak. The group operates primarily in Malaysia.
LEBTECH is incorporated in Malaysia under the Companies Act 1965 on 28th August 2002, as a private limited company under the name Angkasa Ganda Sdn Bhd. On 23rd September 2002, the Company was converted to a PLC under the name Angkasa Ganda Berhad. Subsequently, on 10th February 2003, it changed its name to Lebar Daun Berhad and on 29 June 2011, the company changed its name again to Lebtech Berhad.  LEBTECH has been listed on the Second Board of Bursa Malaysia Securities Berhad since 1 March 2004. The existing authorized share capital of LEBTECH is RM250,000,000.00 comprising 500,000,000 ordinary shares of RM0.50 each of which 136,483,675 ordinary shares of RM0.50 each have been issued and fully paid-up.
For more information on investor relations purposes, kindly click the link www.lebtech.com.my
LEBTECH CONSTRUCTION SDN BHD (175883-H)
Lebtech Construction Sdn Bhd ("LCSB") was incorporated in November 1988 and is a wholly owned subsidiary of Lebtech Berhad, a company listed in Bursa Malaysia Securities Berhad.
LCSB begin its business upon incorporation with housing development as its main activities and has diversified to become an absolute construction company. To date, LCSB holds PKK Class "A" (Bumiputra) and has attained the highest G7 Classification with CIDB. Under its diversification strategy, LCSB has successfully secured projects amounting to more than RM 1.5 billion, which generates profits over the years.
LCSB and several other companies formed a corporate alliance under the name of Kumpulan Lebar Daun ("KLD"). The group expanded rapidly since 1998, primarily involved in construction and property development within Klang Valley. Along with KLD distinction expansion, LCSB has expanded significantly and currently involved in various key projects of KLD, which includes the prestigious township of D'Kayangan and Bukit Bandaraya Shah Alam.
LCSB vision is to establish itself as a highly credible and respected organization in the construction industry. Its mission is to attain success as a socially responsible Malaysian corporation, which excels in all its business ventures.
LEBAR DAUN DEVELOPMENT SDN BHD (474585-K)
("LDDSB") is a member company of Kumpulan Lebar Daun ("KLD"). Incorporated in Kuala Lumpur, Malaysia on 28th December 1998 and commenced operations October 1999. LDDSB with several companies, namely Lebtech Construction Sdn Bhd, Lebar Daun Properties Sdn Bhd, Basco Sdn Bhd, Lebar Daun Plantation Sdn Bhd and Ayuribu Sdn Bhd formed an alliance under the name KLD. Along with KLD's diverse expansion, LDDSB expanded and is currently involved in various significant property development projects in the Klang Valley. LDDSB is backed by KLD's 30 years of experience in property development and construction industry. KLD's current land bank makes up more than 1000 acres of lands with a total gross development value of RM5 Billion.
The company's mission is to succeed as a model organization in property development renowned for its quality and design in every property developed and delivered to our customers. LDDSB's association with KLD provides LDDSB the financial strength and professional expertise to offer the very best in property development and construction to buyers, joint-venture partners, suppliers and business associates. KLD has undertaken and successfully completed several projects in the Klang Valley worth more than RM700 Million. In essence, LDDSB's mission and vision is to attain ultimate success as a socially responsible Malaysian corporation, which excels in all its endeavors.
BASCO SDN BHD (451727-K)
("Basco") was incorporated on 3rd November 1997 with property development as its main activity and is 100% owned by Bumiputra. Since 2004, Basco has diversified its activities to include construction also as its main business. Basco was awarded with a PKK Class "A" contractor in February 2004 and has achieved the highest G7 classification with the Construction Industries Development Board ("CIDB") in October 2004. With these accreditations in hand, Basco is better positioned to compete and become a key player in the development and construction industry. Basco is ISO 9001:2008 Compliance Company for the provision of building construction and infrastructure works started from 28 May 2011 till 27 May 2014.
KUMPULAN LEBAR DAUN Management team consists of experienced and dedicated personnel that is led by the Chairman. Each member adds to the team and operations of the Company high credentials and solid experience in multiple areas that includes property development, construction, engineering and corporate finance. The dynamic management structure provides balance and strength which established the necessary foundation for undertakings high value property developments and ensures that all projects are successfully completed on time. KLD success is aspired by Management Team that surpasses the norm in management skills, a team one can be proud of.
Group Executive Chairman
DATO' NOOR AZMAN @ NOOR HIZAM BIN MOHD NURDIN
Dato' Noor Azman @ Noor Hizam bin Mohd Nurdin. Graduated with Honors in Business Management from Universiti Kebangsaan Malaysia in 1985. Began his career as a Corporate and Retail Banking Executive with MUI Bank Berhad in 1985. In 1988, he left the bank to set up Lebar Daun Sdn Bhd (now known as Lebtech Construction Sdn Bhd). The founding father of KLD, an organization that has evolved into a business empire with its remarkable status quo. Under his leadership, KLD has grown from a small developer and contractor to one of the major players in the property and construction business. Dato' Noor Azman is the founder and also a major shareholder in KLD. He also sits on the board of several other private companies. He does not hold any other directorships of public companies.
Managing Director
NORAZMI BIN MOHAMED NURDIN
Norazmi bin Mohamed Nurdin. Degree in Engineering Management and Civil Engineering from Portland University, USA.  Norazmi began his career with Petronas Berhad in 1992 as Senior Executive, Tender and Contract Division. Prior to joining KLD, he was the General Manager of Putrajaya Holdings Sdn Bhd. He served in various senior positions in other private companies under Putrajaya Holdings Sdn Bhd. Norazmi is the point man in the management team that runs the day-to-day operations of KLD. He also sits on the Board of several private companies.
General Manager
IR. CHE FISOL BIN ABDUL HAMID
Ir. Che Fisol Abdul Hamid, a professional engineer and member of Institution of Engineers Malaysia. Graduated from university of Newcastle Upon Tynes, UK, joined Minconsult Sdn Bhd as a structural design engineer in 1990. Then left Minconsult after 7 years and moved to Worldwide Holdings Bhd, a property development and investment holding company. Involved in various property development projects undertaken by the company throughout his tenure of 7 years initially as a Project Engineer before being promoted to Project Manager.
Company Secretary/Legal Advisor
NOR HISYAM BIN AHMAD FODZI
Nor Hisyam Bin Ahmad Fodzi, 29. A Licensed Secretary by Companies Commission of Malaysia since 2017. Foundation of law and a bachelor degree from Universiti Teknologi Mara (UiTM) Malaysia. More than 7 years' experience in the areas of secretarial, corporate legal and human resources and held several senior positions in construction companies before joining Kumpulan Lebar Daun and Lebtech Berhad. He was with KIP Real Estate Investment Trust for 4 years prior to joining the company. Now in charge of the Secretarial, Legal, HR, Administration and IT.
Group Financial Controller
VEERAPPAN V. SENTHILNATHAN
Veerappan V. Senthilnathan. Degree in Accounting from University of Science Malaysia. A Chartered Accountant by profession and a member of Malaysian Institute of Accountants. More than 15 years' experience in the areas of auditing, accounting and held several senior positions in construction companies before joining Lebtech Construction Sdn Bhd. Began his career with Audit firm in 2005 then moved to commercial line in 2009. With Ceteau Malaysia Sdn Bhd for 7 years prior to joining the company, now in charge of Accounts Department.
Contract Manager
HASHIM BIN ARWIT
Hashim bin Arwit @ Hassan appointed as Contract Manager on 15th July 2013. Graduated with a Degree in Building from MARA Institute of Technology in 1995 and Diploma in Quantity Surveyor from University Technology Malaysia in 1989. He was attached to Perunding Unikon Sdn. Bhd. From 1990 to 1992 was an Assistant Quantity Surveyor before joining Nik Farid & Loh Sdn. Bhd. from June 1992 to February 1993 as Quantity Surveyor. He then joined ASC Engineering Sdn. Bhd. A subsidiaries of ACPi Bhd, a Public Listed company where he served 10 years until 2006 before joining NF Energy Sdn Bhd an oil and gas subsidiaries company to Nam Fatt Bhd. His last position is as Contract Manager to Panzana Enterprise Sdn Bhd from 2007 to 2013 before resigned and came abroad Lebtech. Where he is responsible for quantity surveying and contract matters.
Project Manager
Sr. Ts. Dr. RIDZUAN BIN YACOB, MRISM, P. Tech
Ridzuan Bin Yacob holds a PhD in Built Environment, MSc in Integrated Construction Project Management both from Universiti Teknologi MARA (UiTM), Shah Alam and B.Ed (Hons) in Civil Engineering from Open University Malaysia (OUM), Kuala Lumpur. He is a Registered Building Surveyor by the Royal Institution of Surveyors Malaysia (RISM), a Registered Property Manager by the Board of Valuers, Appraisers and Estate Agents Malaysia (BOVAEP) and also is a Certified Professional Technologist by the Malaysia Board of Technologists (MBOT). Dedicated Construction Project Manager with extensive knowledge of research and publications in construction management, engineering's principles, theories, specifications and standards. He joined LCSB, for the housing development project of Bukit Bandaraya, Shah Alam in 2000. Began his career in the construction field since his first job with ACMAR International as a Civil and Structural Supervisor for the ACMAR condo and hotel project, Bandar Baru Klang, Selangor in 1995. Involved in many types of construction projects such as buildings and infrastructure works. Bringing leadership's drive to the table and a proven track record of completed projects.